Enjoy the boundless benefits of an all-in-one, lift-assisted mobile cart and carrier that you can take anywhere and attach to any vehicle.
Gear, supplies, tools, luggage – Carry everything more easily with a Boundless Cargo Carrier.
Boundless transforms 2-person operations into a 1-person convenience, minimizes risk of injury or overexertion, and increases productivity.
DESIGNED FOR PROFESSIONAL TRADES, DIY'ers AND CONSUMERS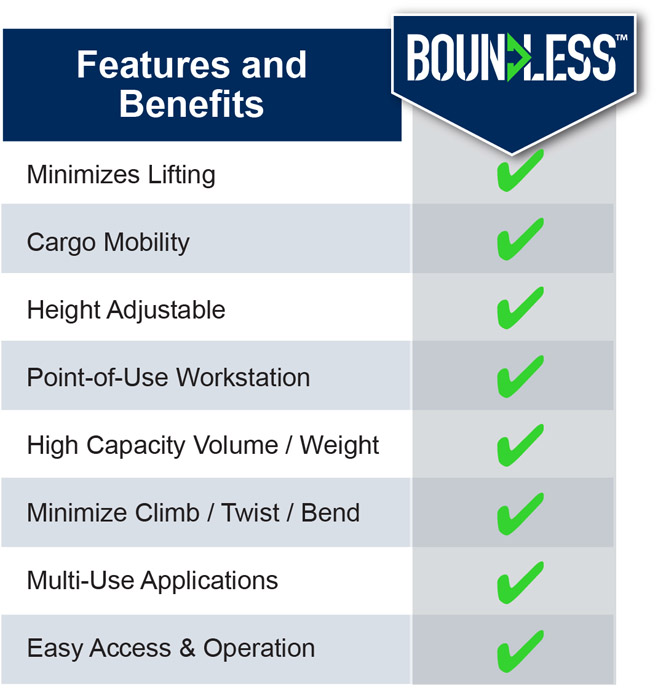 Boundless Cargo Carriers go to work with you and for you; lightening your load, reducing risk of injury and increasing productivity.  From easily loading and hauling tools and supplies to giving you an on-site mobile work surface, our durable heavy-duty carriers make the job easier every step of the way.
Construction
Professional Trades
Repair & Install Services
Caterers & Concessions
Entertainers & Audio Visuals
Reduce the effort and energy you expend to get yourself, your family and all your gear wherever you need to be – the fields, parks, lakes, beaches, or mountains.  Let Boundless Cargo Carriers do the heavy lifting for you. Load > Attach > Go!
DIY/Home Repair
Sports & Tailgating
Shopping
Travel & Vacations
Camping
Hunting & Fishing
It Started with a Fall
"We had just returned from dropping our son off at college and the two of us were trying to take off the roof top carrier.  My wife had climbed up onto the back door sill to reach the carrier, when she fell back and injured her arm and elbow on the top of the car door."

"We had always used carriers and bike racks … but following that ER visit, I started working on an all-in-one carrier that would make loading and hauling easier and safer for everyone."  
-Ken Camarco, Founder
Our Customers
You come from urban, suburban and rural communities across North America.
You are professionals, tradesmen, teachers, coaches, sportsmen and military personnel looking to work safely, more productively, and to get more out of your time off.
You are mothers and fathers taking families and friends to sports, recitals, events, vacations, college.
You are travelers and adventurers.
You work hard and play hard.
LOAD > ATTACH > GO!
How can we help you live Life Unlimited?
Contact us today to:
Join the Waiting List
Become a Distributor
Get Product Updates & News